Hey guys,
So I went to one of the UK's heaviest rock music festivals a few weeks ago known as 'Download Festival' located in Donnington Park, Nottingham. Download is what used to be known as the 'Monsters of Rock Festival'. I was extremely excited to go for my first time this year, of course due to the line-up but also because the original Monsters of Rock Festival is what would have been an absolute dream to attend had I been born in the 60s/70s.
'Monsters of Rock' held a great deal of prestige, especially to a die-hard fan of classic rock music. Bands such as 'Rainbow', 'ACDC' and 'Whitesnake' have all performed at this particular festival so even though times have now changed (and even much of the type of rock music that Download now offers), it meant a lot to me to finally go.
My blog posts related to Download Festival will be in 3 separate parts, reflecting each day and I have to firstly apologise for the lack of photos that I've taken. This was due to the relentless rain and purely due to the fact that there weren't many opportunities to actually take any so instead I have used a few of my own, my families and official photos.
Babymetal
Lemmy Tribute
Korn
Rammstein
Babymetal
Babymetal are a Japanese, metal idol band who released their self-titled debut album Feb 2014. To be completely honest, I had never really taken the time to listen to Babymetal even after hearing a great deal about their success through people I know or on various social media platforms.
When I finally arrived to the festival, Babymetal were fairly close to the end of their set on the Lemmy Stage (main stage) but despite hearing only their last 3 songs, I was completely and utterly fascinated. I have to admit, I soon came to the conclusion that I wasn't particularly a fan of their music but despite this, Babymetal held an engrossing stage presence unlike any other band I've ever seen before. They were just fascinating. From their gothic-punk styled costumes to their perfectly executed dance routines, they emanated an electrifying energy.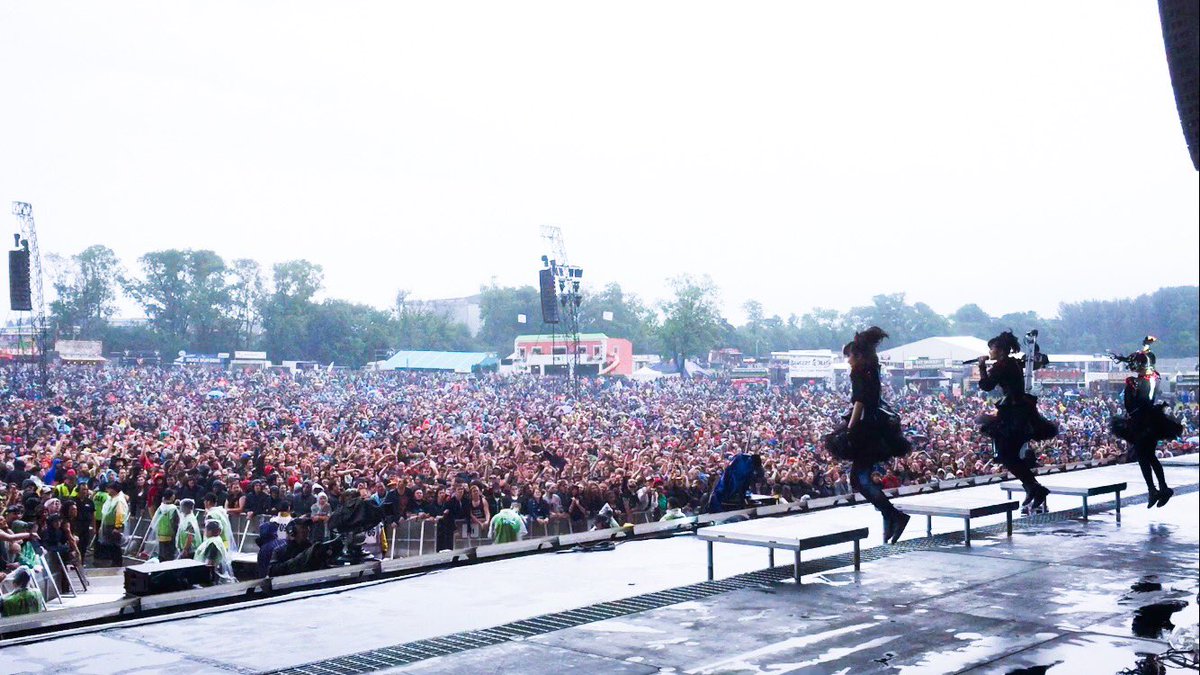 Lemmy Tribute
As I'm sure you'll be aware, Motorhead were also supposed to perform on the Friday of Download Festival but were unable to due to the devastating news of the death of illustrious vocalist Lemmy Kilmister. I am a huge fan of Motorhead and was deeply saddened to hear about his passing.
As I was walking along the back of the field, I heard the familiar voice of Lemmy singing 'Overkill' and was immediately, as if by possession, gravitated towards the main stage. As a tribute, Download re-named the main stage after him and when Motorhead should have performed, they broadcasted a  compilation of various interviews of Lemmy, aswell as clips illustrating the monumental impact he had on rock music. Throughout the festival, I saw many fans dressed exactly how the rock legend always did. From the hat to the facial hair, fans absolutely nailed it and it was an honour to be amongst so many people who clearly held great respect for him.
Korn
Prior to Download, I was familiar with Korn's stuff, but again, I wasn't a big fan. As my family retreated back to the car due to the sheer volume of rain, I decided to stay put and see what they were like. I was so glad I did.
I think it's fair to say that some bands can't be fully appreciated until they are heard live and in my opinion, Korn are one of them. Heavy metal isn't one of my 'strengths' in rock music but I can appreciate it depending on the band and Korn managed to keep me thoroughly entertained throughout their performance despite me not knowing a single song.
The crowd itself was banging. Especially towards the front as you would expect. I stood further back but could still feel the intensity and I think that speaks for itself.
Rammstein
After around 6 hours of constant standing in torrential rain, I think it's fair to say that when it finally got to Friday's headliner, I was both relieved and incredibly excited. I know how much my brother loves 'Rammstein' so the hype soon passed to me and I was raring to go.
Weaving in and out of the sea of people, we finally reached a perfect spot, not too far away from the front. 'Rammstein' finally entered the stage, quite literally with a bang.
From start to finish, I was entirely mesmerised. What amazed me was the fact that the lyrics to all if their songs are almost entirely German but this didn't matter in the slightest because it was pretty evident that German speaking fans or not knew the words. I would be inclined to compare the visuals of their set to the likes of 'KISS', another band that I have greatly admired since a very young age, but on an ever so slightly tamer level.
I'm led to believe that each band member is a qualified pyrotechnic, is this true? Well even if it isn't, could have fooled me. Quite literally every display of art on stage was in the form of fire. From fire breathing, to fireworks, from huge sparklers to explosives attached to the actual suits of the band members, they really know how to put on a show.